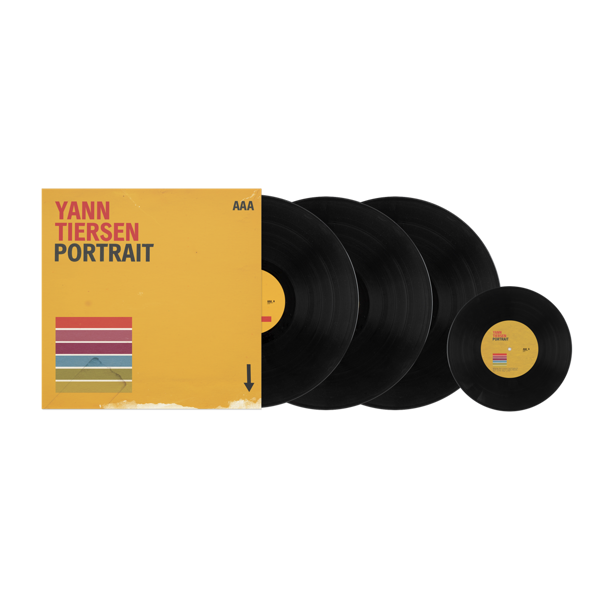 PORTRAIT (Triple Black Heavyweight Vinyl) – With exclusive 7" Vinyl
This triple album includes 3 pieces of black 180g vinyl in a triple gatefold sleeve, plus an exclusive 7" containing brand new alternative versions of the tracks 'Comptine D'un Autre Été (L'Après-Midi)' and 'The Waltz of the Monsters' played on harpsichord. (These two special harpsichord tracks are not on the CD, digital or streaming versions of the album). Also included are a set of analogue printed photographs taken during the recording session - only available during pre-order!
Portrait is a collection of 25 newly recorded tracks from throughout Tiersen's career plus three new songs. The album will be released on double CD, digitally and on heavyweight triple vinyl. Both the clear and black vinyl editions of Portrait include a 7" with exclusive harpsichord versions of 'Comptine d'Un Autre Été (L'Après-Midi)' and 'The Waltz of the Monsters', unavailable elsewhere.
The album features collaborations with John Grant, Gruff Rhys from Super Furry Animals, Stephen O'Malley from Sunn O))), and Blonde Redhead, the album was recorded at The Eskal, a recently built analogue studio Tiersen built in an old discotheque on the Breton island of Ushant with Tiersen's touring collaborators Emilie Tiersen, Ólavur Jakúpsson and Jens L Thomsen.
PORTRAIT TRACKLISTING
Introductory Movement (featuring Stephen O'Malley from Sunn 0))))
The Long Road (La Longue Route)
Monochrome (featuring Gruff Rhys)
Chapter 19
Rue des Cascades
The Old Man Still Wants It
Gwennilied
Prad (featuring Stephen O'Malley from Sunn 0))))
Diouz An Noz
Porz Goret
La Dispute
Pell
Erc'h
The Wire (Sur le Fil)
The Waltz of the Monsters
Closer (featuring Blonde Redhead)
Naval
The Jetty
Koad
Prayer No.2
Gronjord
Kala
Comptine d'Un Autre Été (L'Après-Midi)
Tempelhof (Part 2)
Thinking Like A Mountain (Feat. John Grant & Stephen O'Malley)
7" exclusive harpsichord versions
Waltz of the Monsters (Harpsichord Version)
Comptine d'Un Autre Été (L'Après-Midi) (Harpsichord Version)